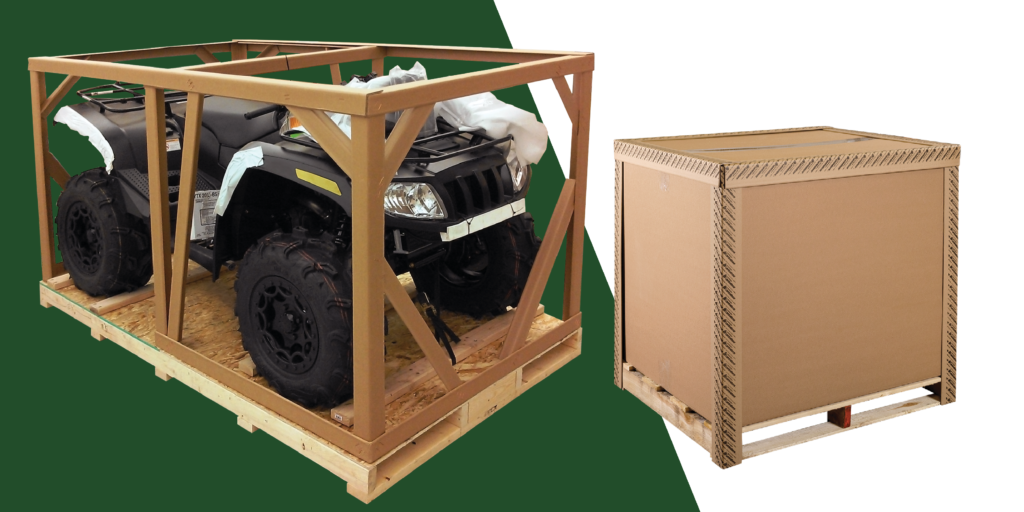 Wood crates are typically used to transport fragile, heavy or unusually shaped goods from one place to another. The main benefit of the crate is durability and customization by product, and due to the sturdy nature of wood, a lot of manufacturers use it for stacking strength.  
Packaging has substantially advanced in recent years but many industrial companies are still using wooden crates because that's all they know. Most are unaware that there may be alternatives that offer more protection, greater efficiency and are cost-effective. 
Here are a few reasons to look at alternatives and make the switch from the traditional wood crating for shipping.  
Safety & Ergonomic Hazards of Wood Shipping Crates
Customizing wood crating is dangerous. In order to customize you need to use saws, pneumatic nailers and other tools – all which create opportunities for employees to injure themselves. Wood can be heavy and cumbersome, labor intensive and time consuming to convert into shipping crates. Laminations' crating solutions can be built around your product, making them a safer and more ergonomically friendly for your employees. 
Wooden Crates Take Up Warehouse Space  
Wood can take up a lot of warehouse space. Some manufacturers store it outside, so they don't use precious warehouse space, which exposes the wood to the elements. This can lead to mold and mildew growing on the wood during warmer months of the year. Laminations' shipping products have the ability to nest so you can store product easily and efficiently.  
Disposal Issues When Using Wooden Shipping Crates
One of the biggest complaints about wood crating is how hard it is to dispose of. This may even require having to pay someone to have it ground up or put in a landfill. All Laminations' products can go directly into the same waste stream as old, corrugated boxes, making our crating solutions easy for you or your end user to dispose of.
The Cost of Wood Shipping Crates 
Wood can be expensive – we've seen the rise and fall of prices this last year. Not only are there the irregularities in the cost to purchase but if you're shipping internationally, you must also pay for heat treating the wood before shipping. You also need to take into consideration the amount of time it takes your employees to assemble wooden crates. Laminations' crate packaging products can be assembled faster than wood crates and they are exempt and do not have to be ISMP stamped for international shipping.  
Inconsistent Material  
Wood can be a very inconsistent material with knots, splitting and warping. These irregularities result in lost time to pull bad boards or if used, can reduce the strength of the wood and overall protection that's provided. Laminations VBoard products are manufactured in a continuous fashion with quality paper and glue, providing a consistent product that is repeatable order after order.   
With the advancements in packaging in the recent years, it's time to reassess and determine if an alternative solution can help offer more protection, greater efficiencies and be more cost effective than traditional wood crating.